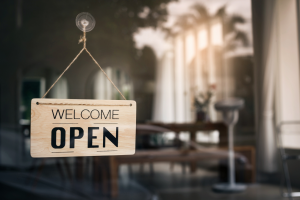 Your storefront windows are often the first thing your potential customers notice when they visit your business, so it's important to give them the best possible view of your business. Whether you are looking to replace your existing windows or install them for the first time, it is important to know which types of glass will look best and serve your needs.
There are several storefront glass options available today. Choosing the right kind of glass can take time and effort, especially if it is your first time dealing with the process. Fortunately, we have all the information you'll need to know to decide on the right type of storefront glass for your business. This storefront glass installer in La Grange, Illinois is going to review some of the most popular options below.
Frosted Glass
One of the most popular types of glass for storefront windows is frosted glass. It lets in natural light while still providing a degree of privacy. Frosted glass also provides a sleek, modern look to any storefront. Your storefront glass installer in La Grange, Illinois might recommend going with this option if you want to add style and class to your store without breaking the bank.
Tinted Glass
If you are looking for a storefront window that offers privacy while letting in plenty of natural light, tinted glass might be your best option. Tinted windows often come with a reflective coating that can help reduce glare, which is especially important during the summer months when the sun's rays are strongest and most direct. Tinted glass also offers more protection from ultraviolet radiation, which can otherwise fade your furniture and carpets over time.
Security Glass
For maximum security, your storefront glass installer in La Grange, Illinois may suggest installing impact-resistant or tempered glass. These types of glass are designed to resist breakage and projectiles, which makes them a great choice if your store has a higher risk of vandalism. Impact-resistant glass features a coating that makes it more resistant to breakage due to objects thrown at the window, while tempered glass will shatter into smaller pieces when broken instead of sharp shards.
Insulated Glass
Insulated glass is an excellent choice for storefront windows because it helps blocks the heat passing through. This reduces the need for air conditioning, so you save on energy costs. It also prevents condensation from forming inside your window and getting in contact with your building's interior.
Clear Glass
Clear glass storefront windows are great because they offer unobstructed views of your store and allow natural light to filter in. This type of glass also allows you to see inside and outside your store, so it can be an ideal option if you have an open-concept space. Clear glass can also be tinted by your storefront glass installer in La Grange, Illinois to control the amount of light coming in.
Final Thoughts
Are you looking to add some panache to your storefront windows, but are unsure as to what type of glass you need? It can be difficult to know where to begin — but with this quick guide, you should be able to find the best possible glass for your specific storefront windows in no time.
Looking for a Storefront Glass Installer in La Grange, Illinois?
Picking out the right type of glass for your storefront windows can be tricky if you don't know what you are doing. When you partner with a professional storefront glass installer in La Grange, Illinois, not only will they help you decide on the right option, but they will also make sure that your storefront windows are installed properly.
Do you need help finding the best option? If so, do not hesitate to get in touch with the professionals at Glass & Mirror America. Contact us today at (800) 411-2801 to schedule a free consultation.