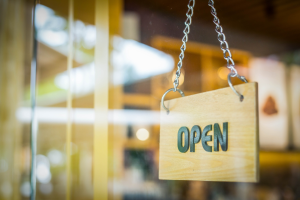 If you have ever shopped in a mall or convenience store, you may have noticed that the glass on the storefront windows was yellowed, cracked, or warped. If your Highland business falls into this category, then now is the time to think about replacing your storefront glass windows.
The glass windows on your store are often the first thing potential customers see when walking by, so you'll want to make sure they look their best. However, replacing storefront glass windows can be overwhelming because there are so many factors to consider. Are you looking for some guidance? This storefront glass installer in Highland, Indiana is going to review some of the key things you should consider below.
Make sure your installer is licensed and insured.
As you explore your options, it's important to remember that not all storefront glass installers in Highland, Indiana are the same. Before investing in a replacement storefront glass project, you must ensure that the installer you work with is licensed and insured.
When you hire a licensed and insured installer to work on commercial properties, you can be sure they have the knowledge needed to work with your storefront glass panels. Additionally, you can prevent the potential for lawsuits due to possible accidents on the job or expensive glass replacement costs. When you hire an installer who is not adequately insured and licensed, your Highland business may be held liable for any worker's injuries on the job or damaged materials.
Ensure the installer can work with other contractors.
When building or renovating a commercial property, you will most likely work with multiple contractors to make the job happen. One difficult team member can affect the entire project. That's why the storefront glass installer in Highland, Indiana you partner with must be a team player. Your installer should be able to communicate effectively with other contractors and have experience working with architects, engineers, and general contractors.
Consider a range of storefront window options.
There is no one-size-fits-all option when replacing commercial window glass. You may walk into the project believing that glass doors are the best option, only to find out later that a single sheet of fixed impact glass is the better choice. Before making any commitment, be sure to see what your installer can offer from different manufacturers so that you can be sure you are installing the perfect storefront windows for your needs, whatever they may be.
Even when choosing one product, such as glass doors, ensure the installer provides various options. There are typically a few different finishes to choose from for impact-resistant storefront glass, varying in styles and strengths. If a particular storefront glass installer in Highland, Indiana only offers one option, they may not be the right fit for you.
It is also important to watch out for installers who want to tint your glass or simply add a film as an upgrade, which can have its own set of problems. Make sure you ask about the brands the installer uses and do your research to make sure the manufacturer is a reputable one.
Ensure the installer has experience with custom installations.
Every store is different, and so is every replacement window project — some require less extensive work than others. Standard-sized storefront glass windows, for example, are easy to order and install for professionals who do this regularly.
If your store requires specialty storefront window sizes and types of glass or custom glass features, you will want to be sure the installer you choose has experience in ordering and sizing custom measured or cut glass.
You'll want to make sure your installer is proficient in custom storefront window installations. Also, don't forget to ask to see their portfolio of past custom installation work.
Looking for the Top-Rated Storefront Glass Installer in Highland, Indiana?
Are you ready to have your storefront glass replaced? If so, and if you're looking for the top-rated storefront glass installer in Highland, Indiana, look no further than Glass & Mirror America. We can ensure that your storefront glass is installed flawlessly, and that it remains durable and functional for years to come. Contact us today at (800) 411-2801 to discuss your options.