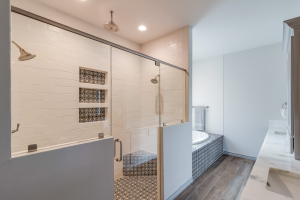 Are you ready to make some upgrades to your master bathroom? In addition to making your bathroom look more stylish, installing a glass shower enclosure will create an elegant and modern aesthetic — which is something many homeowners and renters are seeking these days. But if you are considering installing a glass shower enclosure in your home, it is helpful to understand the installation process and what you should expect before, during, and after it's done. That's where we can help. Below, this custom glass shower installer in La Grange, Illinois is going to discuss some of the key things you should know before getting started.
Before You Buy
A glass shower enclosure can elevate your bathroom's look while also making it more functional. But before you start shopping for a new shower, you should keep a few things in mind.
Decide what type of glass shower you want. There are three main types of glass showers: frameless, semi-frameless, and framed. Each has its own set of pros and cons that you will need to consider.
Take measurements of your bathroom space to make sure the shower will fit.
And finally, decide on a budget.
Once you have considered all these factors, you are ready to start shopping for your glass shower.
How Much Does a Custom Glass Shower Enclosure Cost?
The cost of the shower depends on the size, complexity, and materials used. So, it will depend on what you choose. The good news is that these enclosures typically last for many years when you work with a custom glass shower installer in La Grange, Illinois, so you won't have to worry about replacing them anytime soon. Plus, the increase in your home's value will more than offset the initial investment.
Installing a Glass Shower
Remove the old shower door (if there is one) and any caulking or sealant around the perimeter of the shower opening.
Once the area is prepped, measure the opening for your new glass door shower.
Once you have the measurements, you can place your order with your custom glass shower installer in La Grange, Illinois.
When the glass arrives, install it using silicone caulk and screws (provided with your purchase).
Add new caulking or sealant around the perimeter of the glass door shower and let it dry completely before using the shower.
Addressing Drainage Issues
Drainage is one of the most important things to consider when installing a glass shower. Your shower will quickly become a breeding ground for mold and mildew without proper drainage. To avoid this, ensure your glass shower is installed on a slope so water can drain properly. You should also install a drain cover to catch any stray hair or soap scum that might clog the drain.
Hire a Professional for Installation
Glass showers can have the same great features as other showers, but with the added benefit of looking great and being easy to clean. However, installing one is not as simple as installing a standard shower — you will need to pay attention to many details that don't apply to other kinds of showers. Hiring a professional glass shower installer in La Grange, Illinois is the best way to ensure that your new shower doors are installed correctly and will last for years.
Taking Care of Your Investment
A glass shower is a significant investment for your home. Here are a few tips on how to take care of your new shower and keep it looking beautiful for years to come:
Use a squeegee or soft cloth to wipe down the glass after each use. This will help prevent soap scum and hard water stains from building up.
When cleaning, avoid using harsh chemicals or abrasive scrubbers, as these can damage the glass. Instead, opt for gentle cleaners specifically designed for glass showers.
Be sure to caulk any gaps between the shower door and frame, as well as around the drain, to prevent water from seeping out and causing damage.
One last tip: Always be careful when installing curtains or other drapes near a glass enclosure. Accidental contact could lead to broken glass.
Looking for a Custom Glass Shower Installer in La Grange, Illinois?
Are you ready to transform your bathroom by installing a glass shower enclosure? If so, and if you're looking for a custom glass shower installer in La Grange, Illinois, the experts at Glass & Mirror America are the people to call. Contact us today at (800) 411-2801 to discuss your options.