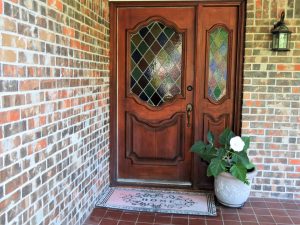 The front door of your home in Hoffman Estates is often the first entry point for your guests. It also gives visitors and passers-by a glance into the personality of the inside of your home.
Because first impressions are important, many homeowners in the Hoffman Estates area are willing to pay a little extra for the elegance and beauty of decorative glass-paneled doors. There are several decorative glass styles available in the market, offering homeowners plenty of opportunities to find the one that best complements the entrance to their home.
In this blog, we are going to discuss five types of decorative glass that are commonly used for doors in Hoffman Estates, Illinois:
1. Tempered Glass
Tempered glass is significantly stronger than standard glass. Its strength and thermal resistance can be attributed to the intense heating and the rapid cooling process as it is made. This production method causes the tempered glass to shatter into tiny oval-shaped pebbles instead of sharp shards if broken, earning it the nickname "Safety Glass." In addition to decorative door panels, tempered glass is often used in the production of a wide range of products, including oven windows, computer screens, shower doors, car windows, and much more.
2. Beveled Glass
Beveled glass is a single pane with edges cut at an angle around the entire perimeter. The beveled edges allow light to be captured in a unique way that produces a broad spectrum of aesthetically pleasing colors. In most cases, beveled glass is cut from regular glass. With that being said, some Hoffman Estates glass manufacturers perform a beveled process on colored/textured glass to intensify the beauty and elegance of the design.
3. Frosted Glass
The exterior of frosted glass is sandblasted or etched with acid, resulting in an opaque, translucent surface. The dense lucidity of frosted glass offers a sense of security and privacy, while also allowing a lot of natural light to penetrate through the glass. Although it is featured primarily on furniture décor and other decorative objects, frosted glass is also finding use in shower doors and other areas of the home where both natural light and privacy are desired.
4. Lead Glass
Lead glass is fabricated by connecting glass pieces with thin strips of metal such as copper, zinc, or lead to form an aesthetically pleasing design. The most common type is stained glass.
5. Glue Chipped Glass
During this manufacturing process, clear float glass is sandblasted and then coated with hot hide glue before it is dried in an oven. The hot hide glue cools as it sticks to the glass surface and then shrinks during the drying process; this rips off thin shards that form random patterns on the glass surface. Glue chipping adds texture and personalized touch to the glass surface, making it popular for use in residential and commercial doors and windows.
There you have it: five of the most common types of decorative glass in Hoffman Estates, Illinois that are used for doors. For more information, contact your nearest Hoffman Estates glass company today!
Looking for a Decorative Glass Company in Hoffman Estates, Illinois?
If you are looking for high a quality and affordable decorative glass company in Hoffman Estates, you can trust the professionals at Glass & Mirror America. With over a century of experience serving residential and commercial clients throughout the Hoffman Estates area, we pride ourselves on quality service and customer satisfaction.
Contact us today at (800) 411-2801 or stop by our showroom to discuss your decorative glass project with one of our talented design consultants.