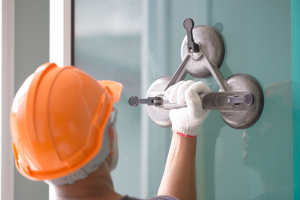 As a business owner in Schaumburg, Illinois, it's important to make a positive and lasting impression on your clients and customers. In today's oversaturated market, how your business looks can play a big role in determining its future. This is where a commercial glass replacement project can help.
Modern glass upgrades can give your business a facelift that instantly grabs attention and sets your property apart. Below, this commercial glass replacement contractor in Schaumburg, Illinois is going to explore some of the latest glass replacement trends that can completely transform your commercial space.
Captivating Storefronts with Glass Façades
Your storefront serves as the face of your business, and its appearance can significantly influence how potential customers perceive your brand. Embracing the rising trend of glass façades in commercial buildings allows you to achieve a sleek, modern look that catches attention and conveys professionalism.
By allowing natural light to flood into the space, glass façades also create a welcoming and bright environment that immediately captivates passersby. Whether you choose clear, tinted, or patterned glass, the possibilities are endless in finding the perfect solution that aligns with your business's image and requirements.
Embracing Openness with Glass Partitions
Modern work environments value open and collaborative spaces, and glass partitions offer a practical and visually appealing way to create separate areas within your office or commercial space. These transparent dividers allow natural light to flow freely, creating a sense of spaciousness.
By embracing openness with glass partitions, you also enhance communication and collaboration among your team, promoting a productive atmosphere. Most commercial glass replacement contractors in Schaumburg, Illinois can customize your glass partitions to suit your specific needs — whether you require individual offices, meeting rooms, or breakout areas.
Enhanced Privacy with Decorative Glass
Privacy is a crucial consideration for certain areas of your business, such as conference rooms, executive offices, or employee break areas. Decorative glass provides an elegant solution to maintain privacy while adding a touch of sophistication to your space.
Frosted or textured glass offers a translucent appearance that allows natural light to filter through while obscuring direct views. It provides a great balance between privacy and openness, creating an inviting atmosphere while ensuring confidentiality. From simple frosted patterns to intricate designs, decorative glass can be tailored to align with your branding and complement the overall aesthetic of your business, making a statement that reflects your professionalism and attention to detail.
Maximizing Natural Light with Skylights and Glass Ceilings
Two trends that are revolutionizing commercial spaces are skylights and glass ceilings. These architectural features are designed to maximize the influx of natural light, creating a welcoming and vibrant environment that positively impacts both employees and customers.
Skylights are installed on rooftops and allow sunlight to pour into the interior, illuminating the space with a warm and natural glow. By strategically placing skylights, you can infuse areas that were once dim and dull with an abundance of daylight. This reduces the need for artificial lighting and creates a more uplifting and productive atmosphere.
Similarly, glass ceilings serve as a stunning architectural element that brings the outdoors inside, making your commercial space feel more open and connected to nature. When you partner with an experienced commercial glass replacement contractor in Schaumburg, Illinois, you can incorporate glass ceilings to transform enclosed areas into light-filled atriums, lobbies, gathering spaces, etc.
Looking for a Commercial Glass Replacement Contractor in Schaumburg, Illinois?
Are you ready to transform your property by replacing your storefront glass or incorporating new modern glass features? If so, Glass & Mirror America is here to help. As the top-rated commercial glass replacement contractor in Schaumburg, Illinois, we have the expertise and commitment to get the job done right. Our professionals will work closely with you to understand your goals and deliver tailored solutions that exceed your expectations. From the initial design consultation to a flawless installation, we are here to bring your vision to life and enhance your business's image.
Contact us today at (800) 411-2801 to schedule a free consultation.