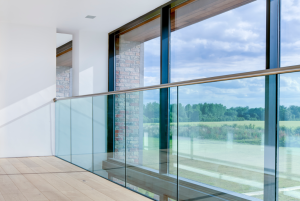 Most people's home is their sanctuary — a reflection of their unique style and taste. If you want to revitalize your living spaces and create a modern, sophisticated atmosphere, a residential glass replacement project can make a world of difference. When you work with the professionals, you can transform your home with the latest trends, enhancing both functionality and aesthetic appeal.
Are you interested in learning about some of the latest trends in glass design? If so, you've come to the right place. This residential glass replacement contractor in Naperville, Illinois is going to discuss everything you'll need to know below.
Bringing Nature Indoors with Glass Partitions
One of the hottest trends in residential glass replacement is the use of glass partitions to create open and airy living spaces. These elegant glass dividers provide a seamless and transparent way to separate different areas of your home while still maintaining a sense of spaciousness and allowing natural light to flow throughout. Whether you dream of a private home office, a cozy reading nook, or a modern dining area, glass partitions offer a chic and stylish solution.
Enhancing Curb Appeal with Glass Entry Doors
Your home's entryway sets the tone for the entire interior space, making a lasting impression on guests and passersby. And nothing beats the beauty of glass entry doors when it comes to boosting curb appeal. Glass entry doors not only elevate the visual appeal of your home, but they also allow natural light to filter into your entryway, creating a warm and welcoming atmosphere.
With a wide variety of glass options available, including decorative patterns and textures, your residential glass replacement contractor in Naperville, Illinois can customize your entry door to match your architectural style and personal taste.
Transforming Living Spaces with Glass Railing Systems
Another trend in residential glass replacement is the use of glass railing systems to create a modern and visually stunning look. Glass railings provide an unobstructed view and a sense of openness, making them an ideal choice for balconies, staircases, and terraces. Whether you prefer a frameless design that seamlessly blends into your surroundings or a sleek metal frame that adds a touch of elegance, glass railings can transform your living spaces and elevate your home's overall aesthetic.
Creating Captivating Focal Points with Glass Backsplashes
Last but certainly not least, the use of glass backsplashes in kitchens and bathrooms is big among homeowners in the Naperville area. A glass backsplash can transform a mundane space into a stunning focal point, adding a touch of elegance and sophistication to your home. Glass backsplashes offer a sleek and modern aesthetic, providing a seamless and reflective surface that enhances the overall appeal of the space. The availability of various colors, patterns, and textures, allows your residential glass replacement contractor in Naperville, Illinois to customize your glass backsplash to suit your personal style and complement your existing décor.
The transparency of glass also allows it to blend seamlessly with various color schemes and materials, making it a versatile choice for any style of kitchen or bathroom. Moreover, glass backsplashes reflect light, making the space appear brighter and more open. They can effectively enhance the natural light in the room or create an illusion of depth in smaller spaces, giving an overall sense of spaciousness.
Looking for a Residential Glass Replacement Contractor in Naperville, Illinois?
When it comes to embracing the latest trends in residential glass design, our experts at Glass & Mirror America are your trusted partners. As the leading residential glass replacement contractor in Naperville, Illinois, we have the expertise to deliver exceptional results. Our professionals are here to guide you through the entire process — from design consultation to flawless installation — ensuring your vision becomes a reality.
Contact us today at (800) 411-2801 to get started.