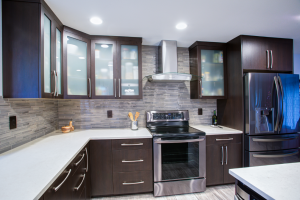 Whether you are designing a bathroom, kitchen, or living room, your material(s) of choice can make or break the home remodel project. If the kitchen in your Arlington Heights home is due for an update, one material that can significantly improve its aesthetic appeal is glass.
Gorgeous, versatile, and low-maintenance, glass can add more depth and texture to your kitchen. Additionally, glass features can give the illusion of extra space in your kitchen by reflecting natural light from nearby windows, which is especially beneficial for Arlington Heights, Illinois homeowners with smaller kitchens.
This custom glass company in Arlington Heights, Illinois is going to discuss seven ways to incorporate glass features into your kitchen.
1. Glass Tables
Sleek and contemporary, glass tables make for an excellent addition in kitchens. Additionally, they can brighten up darker kitchens — especially those with smaller design layouts. Choosing custom glass tabletops in Arlington Heights, Illinois can add a touch of elegance to your kitchen.
2. Glass Backsplash
No matter how big or small your kitchen, a custom glass tile backsplash can add decorative flair and reflect natural light, creating a bright and welcoming environment. Whether you want to add a splash of color or metallic shimmer or play with some fun shapes, there are many visually interesting backsplash designs that will work perfectly in your kitchen. As always, you can reach out to a custom glass company in Arlington Heights to discuss your options for installing a glass backsplash.
3. Glass Dividers
If you are looking for a way to create separation in an open floor plan, you can work with a custom glass company in Arlington Heights, Illinois to incorporate a glass divider. A stylish tinted or frosted glass divider is an elegant way to break up the kitchen and dining room without enclosing either space.
4. Cabinetry
Many homeowners are now swapping their basic and traditional wooden cabinets with cabinets that feature glass panes. Using clear, frosted, tinted, or textured glass panes can elevate the visual appeal of your entire kitchen as it allows you to show off your dinnerware and glassware in an elegant way. Install a light beneath or inside your cabinets to take it one step further.
5. Breakfast bar
If you already have a kitchen counter with room for seating, you could add a glass counter to the top to create a functional breakfast bar. This can add extra countertop space to your kitchen without taking up any room or detracting from the current design.
6. Lighting fixtures
Often, the smallest design details make the biggest difference. If you are looking for a quick and easy way to update the look of your kitchen, glass lighting fixtures are an excellent choice. Glass pendants, lantern lights, and statement chandeliers are all great choices that instantly add extra oomph to the space design while adding additional light.
7. Kitchen island
Consider replacing your island countertop with a stunning glass piece to update the look of your kitchen. Apart from the wide range of styles and designs available, glass is an incredibly versatile material that pairs well with virtually any other material.
Looking for the Premier Custom Glass Company in Arlington Heights, Illinois?
Are you ready to incorporate glass into your kitchen design? If so, and if you're looking for the premier custom glass company in Arlington Heights, Illinois, look no further than the professionals at Glass & Mirror America. We can help transform your kitchen from basic to elegant with our custom glass manufacturing services. Contact us today at (800) 411-2801 to discuss your project.