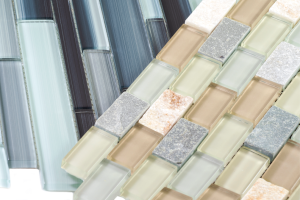 You are probably used to seeing the same sorts of trends in kitchen design year after year. But when you look at the latest home design trends in Chicago and other big cities, you will see that kitchen designers are doing something completely different than what they did just five years ago. What is the new trend they are following? Using glass backsplashes.
The kitchen backsplash is one of the most vital components of any kitchen remodel. Of course, there are so many different materials to choose from, which begs the question: which material should you choose to create your kitchen backsplash?
Throughout 2022, glass has been a hot trend for homeowners looking to add some style to their kitchens. To help you determine whether it's the right option for your home, this custom glass manufacturer in Munster, Indiana is going to discuss some of the key things you should know about glass backsplashes below.
Things to Know About Glass Backsplashes
Glass backsplashes are the latest trend in kitchen design. The idea is to make the kitchen more functional and less cluttered by removing cookbooks, cooking utensils, and other items from the countertops. As a result, many homeowners are working with custom glass manufacturers in Munster, Indiana to bring this wall space to life by installing a custom backsplash.
If you are considering a glass backsplash for your kitchen, there are a few things you should know before you start planning your project:
Glass backsplashes can enhance any kitchen design theme, including traditional, rustic, modern, and contemporary styles, while adding beauty to the space.
They are so easy to maintain. All it takes is a quick wipe-down occasionally, with a damp cloth or even some soap if you need more heavy-duty cleaning.
Glass is so common that it is hard to think of a kitchen without some. So why not use it everywhere? The humble backsplash has been transformed from bland and boring to distinctive and luxurious. And glass is showing up everywhere — even the stovetop. The convenience of being able to see what is happening inside without opening the oven door or reaching into hot pots means you can easily monitor your food while it cooks.
This new take on an old favorite also offers plenty of design flexibility because the colors inside (think vibrant hues) will show through its semi-transparent finish.
And don't worry about the heat. Custom glass manufacturers in Munster, Indiana offer several types of tempered glass specifically designed for high-temperature cooking environments, like ovens and dishwashers (and for heavy-duty protection), that make this trend possible for every budget too.
When it comes to glass backsplashes, the only way to ensure that you have a quality product is to work with a reputable custom glass manufacturer in Munster, Indiana. These companies will take your design and create a customized solution for your kitchen that is made just for you. Plus, these professionals know all about the materials they are using, so they can help guide you when it comes time to choose what type of glass is best for your kitchen.
Final Thoughts
Kitchens have come a long way in the last decade, and many homeowners are discovering the benefits of updating their outdated kitchens to ones that are more modern and sophisticated. If you are looking to remodel your kitchen soon, it is time to consider adding one of the biggest kitchen trends to hit the market in years — the glass backsplash.
Looking for a Custom Glass Manufacturer in Munster, Indiana?
Are you ready to transform your kitchen space by installing a custom glass backsplash? If so, and if you're looking for a custom glass manufacturer in Munster, Indiana they can help bring your vision to life, Glass & Mirror America is here to help. We make it easy to find what you need — whether that is mirrored glass, tempered glass, or one of our many other styles. Contact us today at (800) 411-2801 to get started.