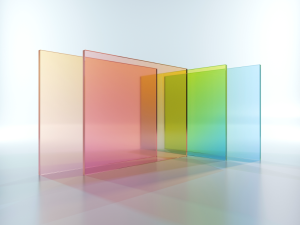 Clear glass has been a staple in construction for centuries, serving primarily functional purposes — such as allowing natural light and keeping the elements out. However, it has evolved beyond its traditional function and is now a key element in improving the aesthetics of any home.
Below, this residential glass replacement company in Barrington, Illinois is going to review the different types of decorative glass and explain how they can be used to elevate your next home improvement project.
Types of Decorative Glass
Choosing the right type of decorative glass for your interior design project is vital. Your choices should support your design vision and improve the overall functionality of your living space. Here are four common types of decorative glass that can add aesthetic and functional value to your project…
Frosted Glass: Frosted glass has a distinct cloudy and translucent texture that is achieved by sandblasting the glass panel or using an acidic solution. Frosted glass provides the ideal balance of natural light and privacy, making it a versatile choice for various spaces in your Barrington home.
Etched Glass: Like frosted glass, etched glass is created by sandblasting or acid etching. In contrast to frosted glass, however, etched glass features intricate surface details — with some parts of the glass panel remaining translucent while others are transparent. This glass type allows for some truly distinctive and eye-catching patterns, adding a sophisticated touch to your living space.
Tinted or Colored Glass: Your residential glass replacement company in Barrington, Illinois can tint or color the glass to your desired hue using special glazing processes, which can improve the privacy and insulation of your home. As a result, not only does the windowpane look nice, but it also saves energy.
Beveled Glass: Beveled glass refers to the design of a glass pane with sloping edges rather than a flat 90° angle. This eye-catching design element captures and refracts sunlight, resulting in hypnotic prisms that highlight the architectural features and decor of your Barrington home.
Where to Add Decorative Glass
Now that you are familiar with the various types of decorative glass, it is time to consider where and how you will use them in your home design. Different styles are better suited to specific rooms or design features, and your choices should be guided by the overall effect of your project. Let's discuss two compelling options for integrating decorative glass into your project: custom glass tabletops and backsplashes.
Glass tabletops add sophistication and functionality to your living or dining room. These tables have a sleek and finished appearance, making them a welcome addition to any home. Most residential glass replacement companies in Barrington, Illinois keep a large inventory of tabletops in varying thicknesses, edge types (e.g., polished or beveled), shapes, corners, sizes, and colors to ensure you find the perfect fit for your space. If they don't have what you're looking for in stock, they should be able to custom-make it for you.
Another excellent way to add style to any room in your home is with a custom glass backsplash. A glass backsplash — whether a stained-glass mosaic or a single pane of frosted glass — not only adds a visually appealing backdrop, but it also makes cleaning easier. This makes them an excellent choice for kitchens and bathrooms.
Looking for a Residential Glass Replacement Company in Barrington, Illinois?
Are you ready to embark on your next glass project? Ready to partner with the best residential glass replacement company in Barrington, Illinois? If so, Glass & Mirror America is the company to call. Our team can guide you through the glass replacement process, ensuring that you make an informed decision for your home. Contact us today at (800) 411-2801 to schedule a free consultation.