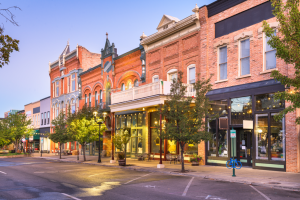 When it comes to protecting your commercial property in Aurora, there is no room for compromise. Maintaining a welcoming and visually appealing environment is essential — and so is ensuring a safe and secure space for your customers and employees.
This is where DefenseLite glass comes in. This innovative security solution offers numerous benefits, making it a top choice for commercial properties in Aurora and beyond. Are you interested in learning more about it? This commercial glass replacement contractor in Aurora, Illinois is going to discuss some of the key things you should know below.
What Is DefenseLite Glass, And What Are Its Characteristics?
DefenseLite is a patented security technology that can significantly improve the security of your commercial building. It is a clear polycarbonate shield that can be retrofitted to existing glass windows and doors. These UV-capped polycarbonate sheets can create a protective layer that keeps intruders out and provides additional benefits, such as reducing sun exposure.
Strength and Durability: One of DefenseLite's most notable characteristics is its incredible strength. It is 250 times stronger than standard glass and has been rigorously tested for durability by independent testing facilities. This security shield is designed to withstand three shots from a .44 Magnum at 1350 feet per second, providing unbreakable glass security at Level 3.
Protection Against Intruders: People turn to DefenseLite glass primarily because of its ability to protect against a range of security threats. Whether you are concerned about looting, shooting, vandalism, or forced entry attempts, DefenseLite has you covered. Most commercial glass replacement contractors in Aurora, Illinois recommend it for large, high-security buildings that require maximum protection without sacrificing aesthetics. However, it can be used on any structure.
While its security capabilities are impressive, DefenseLite offers a host of additional benefits that make it an attractive choice for commercial property owners:
Noise Reduction: DefenseLite can reduce noise pollution by up to 40%, which helps create a more comfortable and peaceful environment for your customers and employees.
Energy Efficiency: By improving the energy efficiency of existing glass by up to 50%, DefenseLite can help you save on heating and cooling costs.
Protection from Impact: DefenseLite shields your glass from high-impact trauma and natural disasters, providing peace of mind in any situation.
We Are Your Trusted DefenseLite Partner
Now that you are familiar with the impressive capabilities of DefenseLite glass, you may be wondering where to turn for its installation? As a well-known commercial glass replacement contractor in Aurora, Illinois, Glass & Mirror America is your trusted partner for DefenseLite systems.
Our DefenseLite systems are custom-made to meet your specific requirements, ensuring they seamlessly integrate with your property's design and security needs. Our trained experts handle the installation with care and precision, using high-quality materials to ensure long-lasting results.
Whether you prefer polycarbonate or exotic plastics, we offer flexible options that can be tailored to your budget and preferences. We leave no room for compromise when it comes to the safety and security of your property.
Looking for a Commercial Glass Replacement Contractor in Aurora, Illinois?
Investing in the security of your commercial property is a wise decision, and DefenseLite glass offers a comprehensive solution that goes beyond traditional security measures. With its unmatched strength, protection against intruders, noise reduction, energy efficiency, and impact resistance, DefenseLite is a must-have for property owners seeking ultimate peace of mind.
Are you ready to have defense light glass installed at your commercial property? Looking for the best commercial glass replacement contractor in Aurora, Illinois? If so, look no further than Glass & Mirror America. Contact us today at (800) 411-2801 to request a free quote.