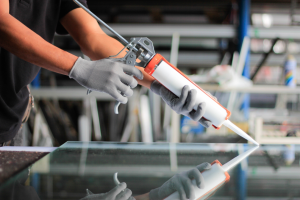 Architectural and interior design trends have significantly evolved over the last couple of decades, as have the roles of glass in these spaces. Today, glass is not simply a functional material used for letting light into rooms or providing a barrier against the elements — it has transformed into a defining decorative component that can dramatically enhance the aesthetic appeal of homes. Whether it's a glass tabletop, an eye-catching mirror wall, or intricately designed glass doors, the potential applications are as varied as your imagination.
Below, this residential glass replacement company in Wheaton, Illinois is going to explore the ways in which we can improve your home's aesthetic appeal by incorporating decorative glass.
Transforming Spaces with Decorative Glass
The transformative potential of decorative glass cannot be understated. Playing with elements of color, texture, and light can help you breathe life into an otherwise ordinary room. As the premier residential glass replacement company in Wheaton, Illinois, our team at Glass & Mirror America offers a wide range of decorative glass solutions that can add an artistic touch to your home.
Whether you are planning on introducing patterned glass windows that subtly influence the room's lighting, or you want to install a colored glass backsplash to introduce a lively contrast in your kitchen, our team will help you identify the ideal solution that satisfies your functional needs and aesthetic desires.
Bringing Your Vision to Life
Boasting a legacy of over a century in the industry, Glass & Mirror America (GMA) is the country's largest independently owned, full-service glass company. Serving Wheaton and the surrounding areas, our philosophy is rooted in the idea that your home should reflect your unique personality and lifestyle.
To make this belief a reality, our team works closely with homeowners to understand their unique vision and style preferences, which allows us to deliver on a diverse range of requests. Whether you want to create an illusion of space with custom mirrors, enhance natural light with large window installations, or add a personal touch with custom decorative glass designs, Glass & Mirror America is here to help bring your unique vision to life.
Ensuring Quality and Durability
At Glass & Mirror America, we understand that glass serves more than a mere decorative purpose. Its durability, functionality, and safety are critical to its application. That's why, whether your project involves residential glass replacement or a new installation, we ensure the use of premium-quality glass materials.
As the top-rated residential glass replacement company in Wheaton, Illinois, we guarantee that every piece of glass we install has undergone a rigorous inspection process to ensure the highest quality. This commitment ensures we meet the highest standards, providing you with a finished product that is not just visually appealing, but also structurally sound and safe.
Looking for a Residential Glass Replacement Company in Wheaton, Illinois?
Are you ready to transform your home's aesthetics by incorporating decorative glass into its design? Ready to partner with the most trusted residential glass replacement company in Wheaton, Illinois? If so, you've come to the right place — Glass & Mirror America is here to help.
Regardless of the size or complexity of your project, we have the expertise to deliver exceptional results. Our team will guide you through the entire process — from design consultation to flawless installation — ensuring your vision becomes a reality.
With over 100 years of experience, you can turn to us for all your residential glass replacement needs. Contact us today at (800) 411-2801 to schedule a free consultation with our staff.