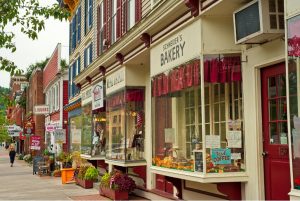 Are you a business owner who's looking to open a new store, or is in the process of renovating your existing store location in Orland Park, Illinois? Achieving the right storefront look can be an exciting and challenging process. Your storefront entrance is the first impression your clients or shoppers have of your business. There are several factors to consider when looking to install new storefront glass in Orland Park, Illinois. Before you get started, here are some things you should know:
What is Storefront Glass?
At just about any commercial building in Orland Park, the entrance or facade of the establishment will feature a storefront. Sometimes known as a shopfront, this entryway is typically located on the ground floor of a structure or at street level. These structures are made of glass and feature a combination of display windows that are designed to draw customers inside.
Basic Glass Finishes
Commercial structures will have different types of purposes. The glass finishes will vary depending on whether your space will be used as a retail store, an office space, or something else.
If you own a restaurant in Orland Park, Illinois you might prefer storefront glass that is clear or transparent. People passing by will be attracted to the warm environment created by the interiors of your restaurant, and they will see the food that's being served to your customers. Your space can appear brighter and homier with a clear glass storefront.
If you have a retail store, your merchandise or services can be highlighted through the clear or transparent storefront glass. The clear glass will allow natural light and allows you to highlight your products. If you are looking for an eco-friendly option for your storefront, clear glass is the way to go.
Should you prefer more privacy, you can choose to add a tinted, frosted, or mirrored finish to the glass. Storefront structures like non-retail commercial buildings and office suites usually have a mix of clear and tinted spaces. Tinted glass can give protection against harmful UV light and help increase energy efficiency.
Glass finishes can greatly improve an office workspace. Frosted glass panels can help you avoid distractions and offer privacy for conference and meeting rooms. Tinted glass can also offer security benefits like preventing curious people from looking through the window. You can add your company logo or change the color of the glass to add a decorative touch to your storefront glass in Orland Park.
Glass Types
Storefronts can be built with different types of glass, depending on the material and its intended use. Most storefronts in Orland Park are made up of annealed glass. This type is the most affordable and most versatile. Annealed glass can be cut and carved into various designs and styles.
If the display window of your storefront will be located near the door or close to the ground, store owners prefer to use tempered glass. In comparison to annealed glass, tempered glass is four times stronger. If someone accidentally breaks the tempered glass, the material will not shatter into tiny pieces.
When you have two pieces of annealed glass sealed with a film, you have a laminated glass. Storeowners often choose laminated glass because of its safety benefits. If someone hits the glass repeatedly, the glass's material will break, but the film will keep the pane in place.
Are You Looking for a New Storefront Glass Company in Orland Park, Illinois?
When designing a retail space, or planning for the construction of a commercial building, the details make a difference. Choosing the right materials and finish for your storefront glass can be a daunting task without the guidance of a professional.
If you are looking for a trusted commercial storefront glass company in Orland Park, Illinois, you've come to the right place. Glass & Mirror America can help you bring your vision to life. You can reach our team at (800) 411-2801. Contact us today to request a free quote.