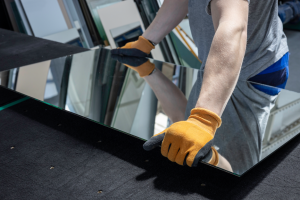 If you are like many homeowners in Elmhurst, Illinois, you are never truly done improving your home's interior. In the back of your mind, you are always thinking about the next project that will upgrade your space. With the pandemic forcing people to stay indoors longer, many people are starting to get more creative with their interior design ideas.
There are many cost-effective ways to update your home, and one of the most popular rising trends is to install custom mirrors. While they are a bit pricier than traditional mirrors that you would find at a store, custom mirrors offer greater value. Is this added value worth the higher price tag? The answer is "yes," and this custom mirror company in Elmhurst, Illinois is going to explain why.
Perfect Fit in Size and Style
One of the main problems people have with store-bought mirrors is finding one that truly fits their spaces. You could get one that is the right height but is either too narrow or too wide. If you are lucky to find the right size, the style does not match the rest of the room. It is not just about the dimensions, but the way it blends seamlessly with your couch or your bed and all the other features in your house.
Custom mirrors in Elmhurst are made according to your unique taste and preference, guaranteeing that what you want is what you get. For some people, it is enough to justify the higher price tag.
Custom Mirrors Can Make Your Room Seem Larger
Staying indoors for extended periods can be challenging. You may feel confined if in a small space. Installing custom mirrors can help open the space up and make it appear larger than it really is.
The way that the custom mirror reflects the light creates an illusion that there is more space. This is important in Elmhurst, Illinois, where people do not get as many days of sunlight as other parts of the country.
While the mirror does not actually provide more space, the feeling that it inspires is reason enough to invest in it.
Use Less Lighting
Most people in Elmhurst, Illinois would love to have more natural light inside their homes. If you are one of them, one way to make the interior look brighter is by installing custom mirrors.
Strategically placed custom mirrors can help you optimize the natural light that comes in. It will reduce your dependence on artificial lighting, especially during daytime, which means that you will consume less electricity.
Custom Mirrors Can Enhance the Look of Your Interior
Aside from being very functional and practical, custom mirrors are aesthetically pleasing. You can have them designed and shaped however you want them. The style and dimension are limited only by your imagination.
Over the years, advancements in glass and mirror technology have made it easier to create pieces that were not possible before. These types of decorations look amazing and are great conversation pieces when entertaining guests. If you are looking for a cost-effective way to enhance your indoor space in Elmhurst, Illinois you should consider installing custom mirrors.
Are You Looking for a Custom Mirrors Company in Elmhurst, Illinois?
Are you interested in installing custom mirrors in your Elmhurst, Illinois home or business? If so, Glass & Mirror America is here to help. We are a full-service glass and mirror company with over 100 years of experience working with homeowners and commercial establishments throughout the Elmhurst, Illinois area.
Our team is experienced in all aspects of mirror repair, replacement, fabrication, and installation. Are you ready to get started? Contact us today at (800) 411-2801 to request a free estimate and consultation.