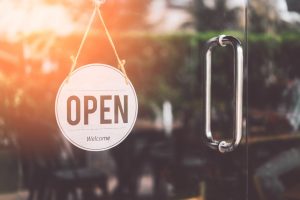 Anyone who owns a commercial or retail location in Chicago, Illinois knows how important it is to have attractive, clean, and sturdy glass at their storefront. Storefront glazing is a contemporary approach that offers specific benefits to business owners, and it's gaining immense popularity in Chicago. Without further ado, here is everything you'll need to know about storefront glazing:
What Is Storefront Glazing?
A retail space's storefront is usually a non-load bearing system that's made up of a commercial door entrance and large windows. In simple terms, storefront glazing refers to the storefront glass that you'll find at the front of many commercial buildings and retail spaces. The installation process is different from residential applications, as it requires specialized materials, tools, training, and other equipment. This type of glass installation offers much more than just a clean look. It provides excellent insulation when installed correctly, and it also provides excellent security.
Apart from the storefront glass and windows, there are several different applications of glazing. Typical examples may include entrance doors, door closures, mirrors, partition, shelving, custom glass, skylights, and more.
What Are The Advantages of Storefront Glazing?
There are a number of distinct benefits to storefront glazing. We're going to review some of the most prevalent ones below:
Aesthetically Appealing
Imagine walking past a storefront that's made completely out of concrete — would you want to go inside? Most people are not drawn to this look, and they might be hesitant to go inside and inquire about the company's products and services. As a business owner, you'll want to avoid this type of reaction to your building by installing storefront glass.
Safety
Having storefront glass allows you and your employees to catch a glimpse of any outside dangers, or anyone who may be behaving suspiciously. This may otherwise be impossible if your building does not have storefront glass. Sure, a concrete wall offers distinct benefits in terms of safety, but storefront glazing will give you a clear view to the outside.
Economical Conceptualization
What do we mean by that? Most customers want to quickly catch a glimpse of what the store is offering before making the decision to go inside. With walls, you're preventing your potential customers from seeing inside, which makes them much less likely to actually enter your store.
Energy Savings
Many commercial buildings are susceptible to internal heat loss, so installing high-quality storefront glass will improve heat insulation while absorbing more sunlight and bringing down energy costs during cooler months. It will also help keep cool air inside during the warmer months.
Glass & Mirror America – Your Trusted Resource for Commercial Storefront Glass in Chicago, Illinois
If you own a retail store or a business in Chicago where customers visit your locations, you should consider replacing the old door or walls with durable storefront glass. It will allow more natural light to come in, attract shoppers, and help you outshine your peers with a modern design.
If you're looking for a commercial glazing service provider in Chicago, then you've come to the right place. By getting in touch with the Glass & Mirror America team, we can discuss your options and start the process of installing a beautiful storefront glass setup.
We're a trusted storefront glass company in the Chicago area with a competent staff who can bring your vision to life. Check out our glazing gallery on our website to see how our experts work meticulously to implement outstanding glass solutions that speak for themselves. Contact us today at (800) 411-2801 to discuss your vision.