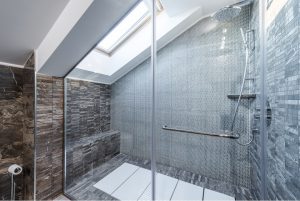 Are you ready to update or remodel your outdated bathroom? If so, installing a new glass shower enclosure is a great way to freshen up the space. However, there is a lot that goes into this decision. With that being said, here are five things to consider when choosing the ideal glass shower enclosure for your Naperville, Illinois home:
1. Budget
First things first — start by setting your budget. This will help you determine the shower enclosure's style, shape, and size. You can even opt for a customized glass shower enclosure that has been handcrafted by our trusted glass specialists. We can provide you with precise estimates so that you can compare prices and choose the perfect glass shower enclosure for your bathroom.
2. Personal Style
This may be the most fun part of choosing a glass enclosure for your shower. Whether you're remodeling just your shower area, or you're redesigning the entire bathroom from scratch, you'll need to select a glass type, finish, and style that suits your vision. Usually, when it comes to glass shower enclosures, clear glass tends to work better than colored options. However, lightly textured or glossy options are often used to provide privacy and elegance.
3. Bathroom Space
Make sure you have plenty of space to install a glass shower enclosure. Your space requirements will further help you to determine the type of installation you need. Today, many homeowners are opting to expand their shower space and make it as large as possible. So, it's important to consider the amount of space you have available.
4. Decorating Style – Framed or Frameless
With hundreds of available styles, here is a look at the two most common types of glass shower enclosures:
Framed Enclosures: These provide enhanced stability, are easier to install, and are very cost-effective. The metal framework provides the structure with enhanced durability. However, the aesthetics tend to look a bit outdated, and you may observe a lack of mobility as they open outwards. But if that doesn't bother you, framed enclosures are a great option.
Frameless Shower Enclosures: These are far more popular design-wise. They allow for better mobility, take up considerably less space, are easier to maintain, and can last much longer with proper upkeep. However, the installation can be a bit cumbersome, and the door may cost you a bit more.
5. Bathroom Hardware
To create a unique and unified look, it's best to update all of the fixtures in your bath at once. This includes the cabinet handles, faucet finishes, towel bars, etc., to match the aesthetics of your shower enclosure. If the shower glass is clear, you'll also want to update the shower hardware so that all of the bathroom components match. Try not to go overboard with different styles — it's best to try to complement the existing color and hardware scheme if you aren't starting from scratch.
Looking for a Glass Shower Enclosure Company in Naperville, Illinois?
At Glass & Mirror America, we understand that no client, no home, and no bathroom are the same. There are a variety of options out there for every space, taste, and budget. If you're looking to install a glass shower enclosure for your bathroom, we can help. We're a licensed, insured, and reputable glass company serving homes and businesses throughout the Naperville area. Our talented professionals can help you create your dream bathroom.
In addition to glass shower enclosure installations, we also offer glass repair and replacement for your convenience and safety. You can reach us toll-free at (800) 411-2801. Contact us today to request a free quote on your next project!