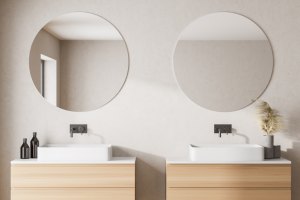 Are you under the assumption that photo frames and pieces of art are the only way to decorate your interior walls? If so, you might be surprised to learn that custom mirrors can do wonders for your living space.
If used in the right way, custom mirrors can significantly transform the interior design of your Chicago home. They can add visual flair to any room while also making it appear larger. You can use a unique and stunning custom mirror to illuminate dark areas of your home, add drama to an otherwise dull room, and help create visually interesting reflections and frame views.
It is incredible how adding a custom mirror can completely transform your living space and help you solve any interior design challenge effortlessly. Below, this custom mirror company in Chicago, Illinois is going to explain how you can elevate your living space by adding new mirrors.
Brighten up the space.
Is there a shortage of natural light in some areas of your Chicago home? Because mirrors reflect light, you can use them to brighten up those dark areas. Your custom mirror company in Chicago, Illinois can help you strategically place your mirrors to simulate natural light and illuminate a dark room. For example, if you have a room with only one window, position a mirror directly across it to reflect the natural light back into the room. If a room does not have any windows, consider placing multiple mirrors along with table lamps.
Transform the room's aesthetic.
Among the most explicable reasons for using a beautiful custom mirror in a room is to increase its aesthetic appeal. A custom mirror company in Chicago, Illinois can place your mirrors in a certain way to either highlight or deflect focus away from an area. You can repurpose every nook and cranny of your Chicago home with mirrors. You can even use custom mirrors to turn odd areas of your home into stunning living spaces.
Make the mirror the focal point of the room.
A mirror is a wonderful tool for determining the center of the room in rooms with no fireplace or mantle to position your furniture around. And, in homes with a fireplace, it only helps amplify the effect of the mirror's presence. As a matter of fact, when it comes to choosing decorative art for your Chicago home, a custom mirror with an ornate walnut framework is somewhat like a painting.
Use the right-sized mirror for a dramatic visual effect.
To create a dramatic visual effect in the room with custom mirrors, focus on choosing the correct size. When placed strategically, the right-sized custom mirror will enhance the flow of natural light into your living space and enhance its aesthetic appeal. The size of the mirror is determined by the amount of available free space on the wall. For example, if you need to fill a wide space on the wall, you can use a large mirror. On the other hand, small mirrors are ideal if you have limited wall space. No matter the size of the mirror, make sure it is thick since you do not want it to crack with the slightest impact. An experienced custom mirror company in Chicago, Illinois can assist you with this.
Looking for a Custom Mirror Company in Chicago, Illinois?
Custom mirrors can enhance the visual appeal of a room by adding vibrancy, depth, and dimension. And of course, you can customize your mirrors to reflect your style and taste, as well as complement the rest of your home's décor.
Are you looking for a custom mirror company in Chicago, Illinois? If so, look no farther than the professionals at Glass & Mirror America. With eye-catching framed and frameless custom mirror options, we can help you add beauty and grace to any room. Contact us today at (800) 411-2801 to discuss your vision.