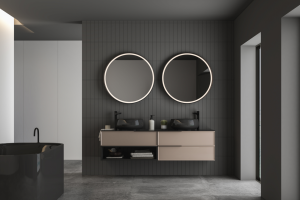 Are you looking to spruce up your bathroom, but aren't sure where to start? Custom mirrors are a great way to add a unique and stylish touch to your space. From classic frameless designs to statement-making beveled edges, there are plenty of custom mirror trends for homeowners to consider today.
Are you interested in learning about some of the most popular options that are currently available? This custom mirror installer in Downers Grove, Illinois is going to review them below.
Frameless Mirrors
Frameless mirrors are an increasingly popular trend in modern bathrooms in the Downers Grove area. They provide a sleek and minimalist aesthetic that adds to the overall style of the space. Frameless mirrors can be used to create a feeling of openness, as they don't have the heavy frame of traditional mirrors. They also make a great focal point in a bathroom and can be used to highlight decorative elements in the room.
Beveled Mirrors
A beveled mirror is a mirror with a bevel, or cut, along the edge of the glass. This creates a beautiful look that stands out from other mirrors. Beveled mirrors can also create interesting optical illusions in your bathroom, as the light reflecting off the beveled edges can give the illusion of more space in the room. In addition, beveled mirrors provide more safety in the bathroom, as they have fewer sharp edges that could cause injury.
LED Lighted Mirrors
LED lighted mirrors are a great way to add modern style and convenience to your bathroom. These mirrors come with integrated LED lights that provide additional illumination and convenience when you are getting ready in the morning or during your evening routine.
LED lighted mirrors are also available in various styles, from frameless and beveled. Many of these mirrors come with adjustable dimmers and color temperature control for added flexibility. The integrated LEDs can be installed on the top, bottom, sides, or all around the mirror, so you can work with your custom mirror installer in Downers Grove, Illinois to create the right look for your bathroom.
Fog-Free Mirrors
When it comes to bathroom mirrors, fog-free mirrors are a great choice for providing a clear, uninterrupted view. These types of mirrors use heated wires or elements that prevent the formation of condensation or fog. This is especially helpful for bathrooms with poor ventilation or high humidity levels. If you want to make your bathroom look more elegant and modern, fog-free mirrors can be a great choice.
Consult With a Professional
If you are looking to upgrade your bathroom with custom mirrors, it is best to contact a custom mirror installer in Downers Grove, Illinois who can help you choose the right design and ensure a proper installation.
With their expertise, you can be sure to get the best results and a bathroom you will love for years to come. Custom mirror installers can help you choose the right size, shape, and style of mirror to match your design vision and complement your space.
Looking for a Custom Mirror Installer in Downers Grove, Illinois?
Custom mirrors can make a big difference in the look and feel of your bathroom. Whether you are interested in a framed, frameless, beveled, LED-lighted, or fog-free mirror, there are so many fantastic options to choose from.
Are you ready to get started with your project? Looking to partner with the best custom mirror installer in Downers Grove, Illinois? If so, Glass & Mirror America is the company to call. With one of the area's largest selections of framed and frameless mirrors, we are here to help you find the perfect option for your bathroom. Contact us today at (800) 411-2801 to schedule a free design consultation.