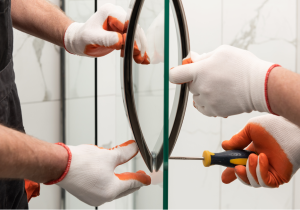 The bathroom is one of the most used areas of the home. It's where you get ready first thing in the morning, and where you unwind and get ready for bed after a long day. As such, it's important for a bathroom to equally embrace both functionality and style.
When remodeling your bathroom, one of the main components you should consider is the shower enclosure. Although there are various options to choose from, you can never go wrong with a glass shower enclosure in Downers Grove, Illinois. We're going to explain why below.
1. Offers Versatility
A glass shower enclosure is completely customizable. It comes in different designs and sizes to meet your bathroom requirements. So, whether you have a small bathroom space or an irregular-shaped corner, you can easily find a glass enclosure that fits perfectly into either scenario.
2. Space-Effective
Maximizing home spaces is crucial for every homeowner in Hinsdale, Illinois, especially in their bathroom. Because bathrooms include a variety of fixtures and decorative elements, it's relatively easy to make them look cramped or cluttered. More so, if you have a small bathroom space.
To prevent this from happening, you can install a glass shower enclosure. Not only does it make your bathroom look clean, modern, and sleek, but it also makes your bathroom look instantly bigger. It is because the glass' transparent material creates the illusion of spatial continuity. As a result, you can segregate different areas in your bathroom clearly and cleanly.
3. Enhances Bathroom Aesthetic
Compared to printed curtains and old-fashioned screens, a glass shower enclosure can add a modern touch to your bathroom. It also comes in different designs, such as frosted, clear, or tinted. From these options, you can select a design that fits your aesthetic and adds a unique look to your bathroom space.
4. Low Maintenance
With most people in Hinsdale, Illinois leading busy lives, it's important to find a home feature that is not only stylish but, more importantly, practical and functional. A glass shower enclosure does just that.
More than giving your bathroom a hint of elegance, it offers practicality while requiring little maintenance. Since it's made of tempered glass, it's durable and long-lasting. Once a glass shower enclosure is installed in Hinsdale, Illinois, you can enjoy its features without having to worry about scratches, cracks, or mold build-up.
You also have the option to add a protective coating, which can help avoid water or soap stains. With this additional feature, you can keep your shower enclosure looking new.
5. Creates a More Hygienic Space
Because Hinsdale has a humid climate, microbes can easily thrive in bathroom spaces. For example, if you have a shower curtain, you may notice mildew growing on the material over time. When this happens, it is a clear sign that bacteria are building up in your bathroom. As a result, it can destroy the space aesthetically and cause numerous health concerns.
By installing a glass shower enclosure, you can create a much healthier and more hygienic environment. Since glass is a non-porous material, bacteria and other microorganisms cannot easily grow on it. However, if you do notice any dirt or particle residue on your glass enclosure, a quick and simple disinfectant spritz is all you need to keep it clean and brand new. 
Looking to Install a Glass Shower Enclosure in Hinsdale, Illinois?
Installing a glass enclosure is great for maximizing your bathroom's style and functionality. If you're hoping to install a glass shower enclosure in Hinsdale, Illinois, you've come to the right place — the professionals at Glass & Mirror America are here to help. Contact us today to discuss your options.