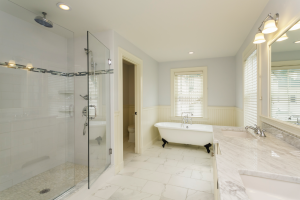 Chicago, Illinois is considered one of the top places to reside in Illinois. It offers residents a suburban environment that has a lot of character and beauty. Rather than renting an apartment or house, 96% of the residents own their properties. As such, it's not uncommon for homeowners in the area to take on remodeling projects.
Among the different rooms in the house, one of the most important spaces to consider renovating is the bathroom, and more specifically, the shower area.
Although there are several options when choosing a custom glass shower door in Chicago, Illinois, the most stylish and functional choice is the personalized frameless glass door. Not only does it enhance the space's aesthetics, but it's also simple to clean and easy to maintain.
To help you get started on choosing the right glass shower door, here are some key things to consider:
The Size and Layout of Your Bathroom
When remodeling your bathroom, the first thing you need to consider is its size and layout. It means you need to get the actual measurements of the following:
Floor to ceiling height
Shower area to be enclosed by glass doors
Total bathroom floor space
Distance between the shower area and surrounding fixtures (such as toilet, sink, etc.)
What makes glass doors a beneficial feature in your bathroom is their flexibility and versatility. They're easy to customize to fit perfectly in the space available.
 Different Types of Glass Doors
Custom glass shower doors in Chicago, Illinois come in different styles and sizes that cater to your preferences and bathroom requirements. Here are the different categories you can choose from:
Single Doors are heavy shower doors that are perfect for small spaces. For instance, if your shower is located at the corner of the room, this is a good enclosure to install. It effectively isolates the shower area to keep the water from spreading while providing a clean and simple bathroom aesthetic.
Sliding Doors can be installed as either full or shorter panels. While the full panels can separate the shower area from the rest of the bathroom space, the shorter panels can be placed over the bathtub to prevent water splashes.
Neo Angle or Right-Angle Shower Doors works best for irregular-shaped shower areas. A neo-angle glass door forms a diamond-shaped enclosure composed of three panels, one of which is the door. A right-angle glass door forms a square or rectangular enclosure with two glass panels and one door.
The Door and Panel Combo is made up of a glass panel and a single door. If you have a shower opening greater than 33 inches, this type of shower door is perfect for your bathroom.
Different Glass Door Finishes
In addition to the glass door style, you should also consider the finish you want to achieve. Depending on the aesthetic you're hoping for, you can choose from three glass finishes: mainly clear, patterned, and frosted.
Clear Glass Door Finish Is the most basic style that gives your bathroom a stylish and sophisticated look. Having a clear glass door is an incredible way to flaunt the intricate design of your shower tiles or stonework.
Patterned Glass Door Finish adds texture to your bathroom decor. You can choose among various patterns such as rainfall, waterfall, bamboo, and stripes to express your style and creativity. Although it's not as transparent as the clear glass, patterned glass is still relatively translucent.
Frosted Glass Door Finish is opaque. It gives you a sense of privacy a clear finish does not provide.
 Ready to Install a Custom Glass Shower Door in Chicago, Illinois?
With this information, you'll be better prepared to shop for the right glass door for your bathroom. Make sure to choose from a reliable vendor that offers quality materials while meeting your requirements and budget.
If you're ready to install a custom glass shower door in Chicago, Illinois, Glass & Mirror America is the company to call. Contact us today to request a free quote.