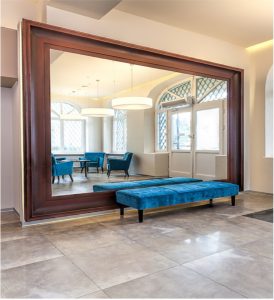 If you are looking to add a personal touch and some excitement to your indoor spaces, you can't go wrong with a custom mirror. The best part is that high-quality custom mirrors in Chicago, Illinois can be easily found at your nearest mirror and glass company.
A tour of antique shops with handcrafted mirrors will quickly reveal how expensive a handcrafted mirror can be. But there is a way to work around these hefty price tags — you don't have to spend a small fortune on your next custom mirror purchase if you shop wisely. Here are some things to keep in mind when looking for a custom mirror for your home or commercial space:
The Appeal of Custom Mirrors in Chicago
There is truly something special about having a mirror in your living areas. Small spaces instantly appear larger, and large spaces can become even more appealing. You can create a unique atmosphere by redirecting the flicker of the candlelight or the fireplace. You can also strategically place your mirrors to capture a stunning outdoor scene and share it from different angles within the room. There are, of course, all kinds of ready-made mirrors on the market. But with that being said, only a custom mirror can add that extra personality to the indoor space in your Chicago home or business. After all, what could be more personal than a mirror with the exact size, finish, and shape of your liking?
You can choose from a wide range of rich wood finishes — such as maple or oak, or even wood veneers or natural burls. Or maybe a silver metal leaf or antique gold that was meticulously hand-rubbed? You can also go for the classic brass or copper finish. No matter what style you choose, you can be sure of one thing: there is nothing quite as exquisite as the hand craftsmanship of a custom mirror.
What Type of Custom Mirror Should You Choose?
The type of custom mirror you should choose will depend a great deal on the room you want to install it in, and what you want it to accomplish.
Be careful about the size. The size of the mirror plays a vital role in the overall impact it will have on the space. Even a mirror that is designed for a focal point can be too overwhelming if the size is not carefully calculated for the room's size.
There are also many materials to choose from. For a complementary piece, you should choose materials that are harmonized. Let's say your room is decorated with warm tones — in that case, you'll likely want your mirror to complement those tones. However, if you are going for a statement piece, you may want to choose bold and contrasting tones to create a noticeable focal point.
Looking for Custom Mirrors in Chicago, Illinois?
When looking for a custom mirror for your residential or commercial property in Chicago, consider your entire interior décor and what you want your mirror to accomplish in the room, and you will be well on your way to finding the perfect mirror. Again, custom mirrors do not have to cost a fortune.
If you are looking for custom mirrors to add beauty and grace to your home or office in Chicago, Glass & Mirror America is the company to call. We carry one of the area's largest selections of framed and frameless mirrors, and we also provide installation services. With over 100 years of experience in serving residential and commercial clients throughout the Chicagoland area, we pride ourselves on quality service and customer satisfaction.
Contact us today at (800) 411-2801 or stop by our designer showroom to discuss your project with one of our mirror design consultants.