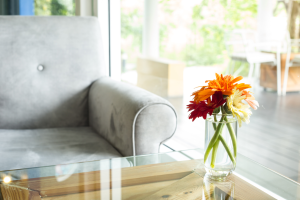 Have you given any attention to the effect your wood furniture has on the appearance and atmosphere of your Chicago home? Whether it's an antique end table, a trendy modern coffee table, or a grand dining table, your wood furniture is essentially a statement piece for the entire room.
Unfortunately, maintaining the cleanliness of your wood surfaces can be a very challenging task. Some wood surface cleaners can attract dust, while others leave behind a greasy residue. Furthermore, there is the problem of preserving the natural color and the incredible level of detail that makes the piece unique.
However, before you give up on your wood furniture, you might want to think about adding a glass tabletop over the wood surface. Adding a piece of glass that is cut to size and customized to fit on top of your wooden table can eliminate many of your concerns. Below, this glass tabletop manufacturer in Chicago, Illinois is going to discuss the advantages of adding a glass tabletop to your wooden tables.
The Advantages of Installing a Glass Tabletop
-Glass can make for a stylish tabletop. The edges of your glass tabletop can be custom cut by your glass tabletop manufacturer in Chicago, Illinois, giving you the option of creating something exquisite and sophisticated, or something more fun and modern.
-Glass tabletops can protect wood against harmful UV rays. The sun can damage more than just your skin. Tinted tabletop glass can act as a sort of sunscreen for your lovely wood furniture, helping to protect it from sun damage.
-Glass tabletops can help your wood furniture last longer than it would otherwise. Damage from the sun, scratches, and even water rings can accelerate the aging process of wood furniture. A glass tabletop can help protect the piece from daily wear and tear and preserve the unique characteristics that make the piece stand out.
-Glass tabletops require less maintenance and are easy to keep clean. To preserve the gleaming appearance of your glass, all you need is a dry, clean cloth and a spray bottle filled with water or glass cleaner.
Things to consider before customizing a glass tabletop
You have an almost infinite number of decorating possibilities to choose from when creating or remodeling a glass tabletop. A glass tabletop manufacturer in Chicago, Illinois can use any sturdy object as a base and manufacture glass tops in any shape you desire.
It is important to make sure that the dimensions of the glass tabletops and the bases are proportional to one another. This is important for safety, visual balance, and overall aesthetics.
When working with a glass tabletop manufacturer in Chicago, Illinois to customize a tabletop, there are a lot of different aspects to consider. These include the following:
-Glass type: Your options are not limited to only a smooth or clear finish. You can also choose pattern glass, painted glass, low-iron glass, frosted glass, etched glass, etc.
-Glass thickness: If you will use a glass piece as a table cover or a protective cover, then a thickness of 1/4 inch would suffice. If you place the glass piece on a stand or pedestal to create the table surface, you will probably want to choose a slightly thicker glass. When using the glass on a table that is larger than 24 inches in dimension or is designed to support heavy objects, you should use glass that is thicker than 1/4 of an inch — typically 3/8 of an inch or 1/2 of an inch, depending on the size of the table and the aesthetic you are going for.
Looking for a Glass Tabletop Manufacturer in Chicago, Illinois?
Are you interested in adding a glass tabletop to your wooden tables? If so, and if you're looking for the top-rated glass tabletop manufacturer in Chicago, Illinois, look no further than Glass & Mirror America. We offer a wide range of eye-catching glass tabletop to choose from. Contact us today at (800) 411-2801 to schedule a free in-home consultation.