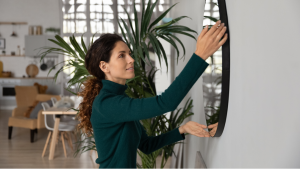 Having high-quality mirrors is important to many homeowners. However, functionality is not the only thing to consider when buying new mirrors for your Hoffman Estates home.
Mirrors are glamorous and eye-catching, and they reflect light around a living space like no other décor feature can. There is a lot to fall in love with — it's no wonder interior designers adore them as a key finishing touch. In combination with the right lighting, custom mirrors allow you to achieve something truly remarkable with your living space.
With that in mind, this custom mirror company in Hoffman Estates, Illinois is going to discuss the top five mirror decorating trends of 2022:
Bone inlay
Bone inlay (also known as "intarsia") is all the rage in interior design today, and we can see why. This classic Indian-style craftsmanship can add elegance to any room. A delicate blend of bone and resin forms an exotic, eye-catching décor feature.
Lean it (à la French)
The modern French interior design is highly desirable among homeowners, yet it can be challenging to recreate in your home. Why? It has something to do with a one-of-a-kind recipe for home décor that brings together a deep appreciation for time-honored practices with a bold willingness to explore uncharted territory. However, if there is a mantlepiece in the room, you will almost certainly find a mirror leaning on it. This is one component that is virtually identical in every single Parisian living space. You can bring that look to your Hoffman Estates home by casually leaning a medium-sized mirror — in any design — on a mantlepiece, a ledge, or even the floor. This will give your space an inviting and sophisticated vibe. If you are having trouble finding the right mirror for your mantle, your custom mirror company in Hoffman Estates, Illinois can help you design the perfect mirror.
Large, round bathroom mirrors
Large, round mirrors are an easy way to mix things up and convey, "I am not afraid to take risks with my design choices." If you place more importance on having a cool mirror than the ability to see every inch of yourself in the vanity, then these are an excellent choice for you.
Go big or go home
Do you want to maximize the amount of natural light in your living space? If so, your custom mirror company in Hoffman Estates, Illinois may suggest installing a large mirror behind your sofa. It is an aesthetic common in ultra-chic boutique hotels because it is one of those things that just works, and it will also work in your home. Additionally, it is an excellent way to anchor your sofa in both large and small spaces. It is worthy of consideration for the title of "best look with least effort."
Multi-function mirrors
Is it a work of art? Or is it a mirror? Is it… both? The upcoming season will see the emergence of the micro-trend of multi-function mirrors. Solving the age-old conflict between style and utility, these mirrors seamlessly marry form and function to give your space a refreshing pop. Custom mirror companies in Hoffman Estates, Illinois offer a wide variety of designs, ranging from modern to whimsical to avant-garde to just plain cool. Architectural Digest has even dubbed them the "new macramé," so you can be sure that it is a look that is completely in line with current trends.
Looking for the Premier Custom Mirror Company in Hoffman Estates, Illinois?
Are you interested in adding a custom mirror to your home? If so, Glass & Mirror America is the company to call. As the premier custom mirror company in Hoffman Estates, Illinois, we know how to create eye-catching framed and frameless custom mirrors that are ideal for any space in your home or business. Contact us today at (800) 411-2801 to get started.