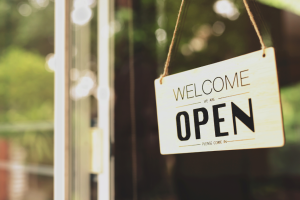 No matter the size or type of commercial building you own, windows and other types of glass will most likely be used throughout. The facade of the building could have a small glassed-in area adjacent to the doors, or the entire face of the building could be made of glass.
Below, this storefront glass company in Highland, Indiana is going to discuss everything you'll need to know about commercial storefront glass.
Types of Frames for Storefront Glass
Some of the common types of frames that are used in commercial glass storefronts include aluminum, vinyl, and wood. When installed by a reputable storefront glass installer in Highland, Indiana these high-grade and premium quality materials can have long lifespans.
But how long can each type last? Here is a breakdown of the three most common types of window frames:
Aluminum: Compared to other metals, aluminum has one of the highest strengths to weight ratios. Window frames made from aluminum can withstand constant exposure to weather elements such as rain and sunlight.
An aluminum window can last up to 20 years if they are installed by experts and well-maintained.
Vinyl: Although they may not look it, vinyl window frames are solid and durable. Moreover, this material is versatile, customizable, and moisture resistant. Best of all, they can easily last up to 20 years or more, even under exposure to severe weather conditions.
Unlike aluminum, vinyl windows are dent and chip resistant. This material is less likely to incur damage.
Wood: Wood is the oldest and most traditional material utilized for window framing. It is still applied in the modern era for commercial glass. For many storefront applications, decorative glazing with wood frames is still a viable option. Wood windows can even last up to 30 years or more.
Wood windows are often a choice of commercial building designers because of their life span. These windows can last longer than the building itself when properly installed and maintained.
What are the Factors That Indicate It's Time to Replace a Glass Storefront?
Below are three common reasons to replace your storefront.
Telltale signs of wear and tear: Extremes in outdoor temperature and long-term exposure to severe weather conditions can cause visible damage such as warping and damaged frames. Also, be watchful of shrinking seals and gaskets, as well as scratched or clouded glass.
Compromised thermal integrity: An increased number of leaks, drafts, and gaps in the seals can severely mitigate the window's U-factor and indicate that it's time to replace your storefront glass in Highland, Indiana. Also, check the operation of your HVAC system to see if it is using more power to compensate for the loss of cool air or air from leaky window glass.
Higher maintenance costs: Worn-out commercial windows will require replacement parts and frequent repairs. As a result, they have become less cost-effective and should be replaced. If you are investing time and resources in maintaining your storefront glass, it is a sign to consider replacing it.
Looking for the Top-Rated Storefront Glass Installer in Highland, Indiana?
Is it time to replace your storefront glass? Are you looking to partner with the top-rated storefront glass installer in Highland, Indiana? If so, you've come to the right place — Glass & Mirror America delivers premium solutions for all kinds of properties.
Regardless of whether you need commercial glass panels to brighten a storefront, or floor-to-ceiling windows that create a modern look for your office, we have the skills and experience to bring your vision to life. Contact us today at (800) 411-2801 to request a free quote.