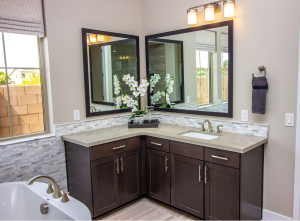 If you are searching for a new mirror to install in your bathroom, you should consider going with a custom mirror from Glass & Mirror America. Custom mirrors are both stylish and highly functional. They can be built to fit any space — no matter how small or unique — and can be made with an array of specialty glass options, including anti-mold glass or anti-scratch glass, depending on your needs.
To help you decide whether custom mirrors are right for your space, this custom mirror manufacturer in Westmont, Illinois is going to review their top four benefits below.
1. Added Appeal
The added appeal is something you do not always think about when it comes to custom mirrors, but just as there are different ways to make mirrors, there are also different types of ways to customize them. Simply ask your custom mirror manufacturer in Westmont, Illinois and they can etch any design or pattern into your mirror.
Whether it is standard mirror etching or complex laser-cut designs, your bathroom mirror is something that you can fully customize to fit your style and personality. Custom bathroom mirrors also come in many different shapes and sizes. They are often square, but other shapes — like octagons or half-circles — can give your sink or counter an extra edge.
This means that a custom bathroom mirror is not only unique but also one-of-a-kind — which makes for an alluring addition to any room in your home.
2. Improved Function
In terms of function, having a custom bathroom mirror is great for anyone who uses their sink for multiple things. For example, many people use their sink to put on makeup. Since custom mirrors are made specifically for your sink or counter, you will have no problem seeing what you are doing when you get ready in the morning or clean up at night.
Another way a custom mirror might improve the functionality of your bathroom is by adding storage space. Consider installing cabinets with mirrors above your vanity, for example. People don't just need places to store their toothbrushes and combs — they also need places to store all their cosmetics and medications. If you have a unique vision like this in mind, you can always get in touch with a custom mirror manufacturer in Westmont, Illinois to discuss the possibilities.
3. Enhanced Lighting
Adding a custom mirror can help brighten up the entire space. If your bathroom has a window, install the vanity and mirrors on the wall facing the window. This orientation ensures that natural light from the window permeates the space and bounces off the mirrors, augmenting the bathroom's lighting and brightening the room.
Your custom mirror manufacturer in Westmont, Illinois may recommend installing multiple smaller mirrors throughout the space if the bathroom lacks a window. You can also consider adding a second mirror in the bathroom, such as over the bathtub. Also, choose mirrors with beveled edges that reflect extra light throughout the bathroom.
4. Increased Space
Mirrors can make the bathroom feel larger and more open. So, if you want to create the illusion of having more space without spending a fortune, you should get in touch with a custom mirror manufacturer in Westmont, Illinois.
Consider installing a large mirror on the entire wall to brighten and expand a small bathroom. You can also install mirrors on the back of your bathroom door or the front of your linen closet door to create an illusion of more space. If your bathroom has lower ceilings that make it feel dark and claustrophobic, install longer, narrower mirrors above your vanity. These elongated mirrors will reflect more light, making your small bathroom look and feel bigger.
Looking for the Best Custom Mirror Manufacturer in Westmont, Illinois?
Are you ready to transform your bathroom by adding a well-designed custom mirror? If so, and if you're looking for the best custom mirror manufacturer in Westmont, Illinois, look no further than Glass & Mirror America. Contact us today at (800) 411-2801 to discuss your options.